Repair, Restore, Remodel – How a Multi-Tool Will Multiply Your Productivity
By Mallory Kramer
For always professional results in your repairs, renovations, and restorations – look no further than a multi-tool. This power tool is, as the name suggests, one tool with the capacity to perform many functions and with a varsatility and functionality that is truly unbeatable. Most multipurpose tools are light weight, and designed for tight space applications and close quarter work in corners and on floors – their design makes them not only versatile, but also easy to use.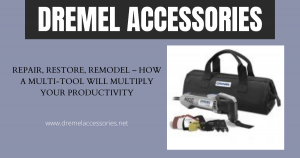 A multi-tool takes on scraping, grinding, cutting, and sanding with precision, accuracy, and an unique oscillating technology that delivers optimal precision and control every time. This oscilliation technology, or rapid, successive back and forth motion provides the multi-tool with more optimized precision and handling than any other tool available.
From the company that developed the world's first oscillating MultiMaster over 41 years ago, there are several multipurpose tools available. In 1967 Fein developed the first power tool to utilize this coveted oscillating technology To begin, Fein's MultiMaster Start is a high performance tool designed around beginners and simple home-repairs and restorations. The Start is the first link in Fein's MultiMaser chain (behind the MultiMaster Select and MultiMaster Top), but at no sacrifice to quality, performance, or professionalism. The Start is a true-blue MultiMaster capable of all cutting, grinding, scraping, and sanding applications; and utilizes some of the most advanced accessories for sawing, scraping, and etc. The Start's lightweight and ergonomic design make it simple to use and control, and with a powerful, variable speed (up to 21,000 OPM), 250 watt motor – Fein's Start is both strong and versatile.
This superior versatility makes the Start a great tool for simple renovations like flooring, tile work, windows, and cabinets. Fein's Multi-Master Start includes one sanding pad (with hook and loop design for easy changes on the job) and five of each type of sanding sheet in 60, 80, 120, and 180 grain. The start also includes: a key and mounting bolts – a rigid stopping knife for lifting linoleum, carpet, adhesive residue, paint, tape etc. – and a (29mm) universal E-Cut blade for base and flooring work. The E-Cut blade is ideal for door jambs, baseboards, toe kicks, and other flooring applications. It effortlessly cuts through plaster, wood, drywall, and plastic and synthetic materials. The blade has an unique fine tooth pattern for enhanced control, accuracy, and blade life – and a flush cut design that provides perfectly perpendicular cuts for flooring and tight areas.
Fein's MultiMaster Select and Top both offer the features of the Start with a few more benefits. The MultiMaster Select is a professional renovation tool built with Fein's tool-free quickIN rapid clamping system which allows for quick and simple, keyless accessory changes and the same powerful, variable speed motor. The Select includes, in addition, a carbide tipped saw blade and an HSS segmented saw blade. The carbide blade is is essential in removing damaged tile joints and carving grooves in plaster, concrete, and other similar building materials. The segmented blade is flat and high-speed, designed for cutting fiber-glass, carbon-fiber, 20 gauge sheet metal, and hardwoods. The blade's segmented shape allows it to cut right, or ninety degree angles without over-cutting.
Now, the MultiMaster Top is designed to help craftsmen professionally complete the most detailed jobs or hobby projects. It includes the same accessories as the Start and Select, and all the additional ones necessary to champion a wide range of applications. The Top includes a perforated sanding pad with 5 more of each grain (60, 80, 120, and 180, perforated), a profile sanding set, dust extraction device, plastic carrying case, and a triangular, perforated, carbide rasp for grinding filler, adhesive, concrete, stone, and wood. Fein's MultiMasters are generally more expensive than their competitors, but, Fein also has the experience, technology, and longevity to provide an exceptional product.
Now, after losing their patent around a year-or-so ago, Fein has some tough competition. Bosch has just released their new Multi-X multifunction tool powered by a professional, high-performance 12v motor. Oscillating from 5,000 – 20,000 OPM, the tool's variable speed dial is designed to provide the huge range of applications and speed adjustments needed for a craftsman's very multifaceted work day. For enhanced versatility and precision, Bosch's Multi-X has multiple position settings rotating in 30 degree increments, and a tool holder with a 240 degree angle adjustment for optimized tool movement. Weighing only 2.12 lbs Bosch's multi-tool has a comfortable ergonomic design with a small perimeter, and soft grip.
This comfortable design reduces operator stress and fatigue, and maximizes overall performance on the job. To protect your projects and materials as you work, Bosch's multi-tool also has a no-mar plastic nose. The Multi-X is powered with Bosch's Litheon battery technology which utilizes lithium ion technology to achieve optimal battery life and power. Litheon batteries are compact and lightweight providing maximum power in a more efficient package. Bosch has also incorporated a built-in fuel gauge for battery charge control. Capable of countless applications, the Multi-X is ideal for seasoned craftsmen and carpenters, and serious do-it-yourself-ers alike.
The Multi-X is compatible with a huge range of premium performance Bosch accessories including: plunge cuts for both metal and wood, sanding pads, and grout removal and flush cut accessories. An etched depth gauge for accurate capacity measurements, and Bosch's universal interface are also available. The interface makes the Multi-X compatible with accessories and attachments from other manufacturers. The Multi-X is available in two packages: the PS50-2A and PS50-2B. The Multi-X PS50-2A include and HCS wood plunge cut blade, sanding plate set, sanding paper, two Litheon 12v max batteries, an adapter, 30 minute charger, and carrying case for security and convenience. The PS50-2B includes everything from the previous package, with three additional HCS wood plunge cut blades and an HCS wood segment blade. Bosch's Multi-X is versatile, durable, efficient, and backed by Bosch's Provantage three year tool protection plan.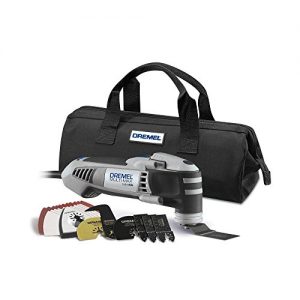 Dremel has also introduced a Multi-Max multifunction tool to give these others a run for their money. With a 1.5 Amp motor powerful enough to cut through even a 1-1/4in. oak door jamb, Dremel's Multi-Max is truly tough. Ranging from 10,000 – 21,000 OPM (oscillations per minute) the tool has a huge speed range for optimized control and versatility. Dremel's Multi-Max also has an ergonomic and compact design to provide enhanced operator comfort and control, and better access into tight or confined areas.
The Multi-Max has a separate on/off switch which maintains speed setting even after the tool is shut off, and an electronic feedback to ensure consistent speed throughout even the toughest applications. The tool also features a Quick Fit mechanism which allows for faster, easier use, and changes accessories up to twice as a fast as other tools. The Dremel Multi-Max kit includes: a sanding pad with three pieces of tough sanding paper for wood, metal, and chipboard – a flexible scraper for tough removal of caulk and adhesive – a 3in. wood and drywall half-round blade which is also ideal for plastics – a 3-1/4in. wood blade for wood, plastic, and drywall cutting – and a carrying case for convenience and portability. Also coming with Dremel's two year limited warranty, the Dremel Multi-Max is compatible with a number of other grinding, cutting, and sanding accessories making it one of the most versatile tools available today.
The versatility of a multi-tool is absolutely unbeatable. For grinding, sanding, cutting, and scraping there is no challenger to its accuracy and functionality. With unique oscillation technology the multi-tool precisely and perfectly takes your repairs, remodels, and restorations to an entirely new level.
As a student at the University of Utah, Mallory Kramer is currently earning an English degree. Three years ago she joined M&M Tool adding to their over 150 years combined experience; there, she specializes in tool parts and web communications. For over 60 years M&M Tool has provided professional service to the tool industry with parts, sales, and service to professional level woodworking products, as well as tools and machinery.
Article Source: Repair, Restore, Remodel – How a Multi-Tool Will Multiply Your Productivity