ZFE 98Pcs Brass Steel Wire Brush textile polishing wheels full set for Dremel, Proxxon Rotary tools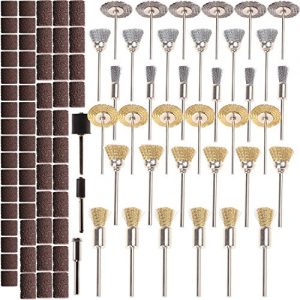 98-pc. Accessories Set e.g. for Dremel Proxxon, inter alia, 100-Piece Multi Tool Super Model for Dremel, Proxxon Multi-Tools – 3mm & 6mm shaft
Shank Diameter is 1/8Inch(3mm).
This product is suit for stainless steel,
copper and iron for aluminum and other metal plastic wood and non-metallic materials,
special internal bore grinding and polishing the concave and irregular shape of the polished goods are unique effect!
98-pc. Accessories Set e.g. for Dremel Proxxon, inter alia, 100-Piece Multi Tool Super Model for Dremel, Proxxon Multi-Tools – 3mm & 6mm shaft

For cutting metal with limited use on wood and plastic.

Cut-off wheels make it easy to cut or bolts, screws, sheet metal

thin wood and plastic. The blade cuts only along its edge.

Do not attempt to sand or cut curved holes with them.
Package:
6Pcs 8mm Steel Wire Brush Wheel
6Pcs 15mm Steel Wire Cup Brush Wheel
6Pcs 25mm Steel Wire Brush
6Pcs 8mm Brass Wire Brush
6Pcs 15mm Brass Wire Cup Brush
6Pcs 25mm Brass Wire Wheel Brush
30 Pcs 1/4″ Sand Drum (80/120/240 grits , 10 each)
30 Pcs 1/2″ Sand Drum (80/120/240 grits , 10 each)
1Pc 1/4″ Sanding Drum Mandrel w/ 1/8″ Shank
1Pc 1/2″ Sanding Drum Mandrel w/ 1/8″ Shank