4 PCS Carbon Motor Brushes Compatible Dremel 3000 200 Brush Repairing Part for Electric Rotary Motor Tool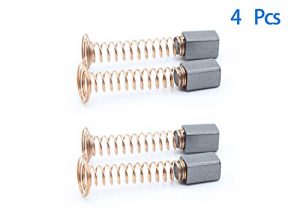 Description:
Motor brushes Compatible Dremel 3000,200 rotary tool Replace every 60 hours
The carbon motor brush set Compatible dremel restores life to your rotary tool.
These motor brushes are designed for Dremel master mechanic and rotary tool models.
Carbon brushes has a better commutation performance, long service life
How to use:
1. Open the cover of carbon brush and take out the carbon brushes.
2. Replace with the new carbon brush.
3. Lock the cover well.
Note:
These brushes should be replaced every 60 hours.
Package Included:
4 x Carbon Brushes
Restores life to your dremel rotary tool.