Dremel Tool – 3 Perks of the Dremel 4000 Rotary Kit
By Viktor Kent
This article will talk about the best Dremel tool on the market and 3 perks that the Dremel 4000 rotary kit has that no other kit offers. Not only is it lightweight and user-friendly, but it is greatly improved in design and is compatible with all of the other Dremel accessories and attachments that you may already use. If you are looking for a rotary kit discover below what this particular rotary tool has to offer and how it differs from any other tool that you've seen.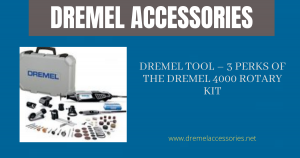 1. Variable Speed: The Dremel 4000 rotary kit has an improved motor and can range between 5,000 to 35,000 RPM while maintaining a smooth and constant speed no matter what you are using it for. It has a variable speed slide that allows you to easily adjust your speed while working; all the while remaining consistent and precise in your work. And the on/off switch is placed perfectly as to not inferfere with your grip while working.
2. Versatile: It is perfect for carving, routing, engraving, grinding, cutting, cleaning, sanding, polishing and more. Being the only rotary tool compatible with all of the Dremel accessories and attachments out there, including the MultiSaw and Planer attachments that were created for the 400 Series makes this tool is one of the best ones out there.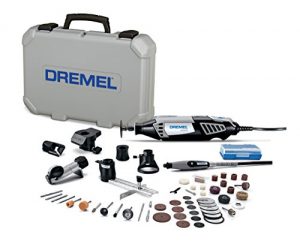 3. Fully Loaded: This particular kit comes with 50 accessories, six attachments a starter book and even a storage case. Some of these accessories include 2 high-speed cutters, 4 emery cut-off wheels, 3 sanding discs and even an engraving cutter. It is backed by a 5 year warranty and will allow you to do many different jobs, from polishing beads and stones, to sharpening your lawn mower blade.
The above article talked about a Dremel tool that is unlike any other on the market. Offering variable speeds from 5,000 to 35,000 and the versatility to complete nearly any job you can think of the Dremel 4000 rotary kit comes fully loaded with 50 accessories, 6 attachments, a storage case and even a quick start guide to help you. For those that want to carve, engrave, sand, polish and more this is an excellent tool to consider. And it has the huge bonus of working with any other attachment and accessory that you might already own.
To learn more about the Dremel 4000 rotary kit, visit Dremel Tool.
Article Source: https://EzineArticles.com/expert/Viktor_Kent/657190