The Dremel Trio
By G. Marvin
Have you ever had a smaller project at home, whether remodeling or crafts or hobbies and the only tool available to you was cumbersome or overpowered for your application? Well the new Dremel Trio is here to fill those needs. The Dremel Trio was designed for ergonomics and function.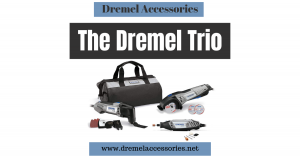 Anyone who has ever used a router or laminate trimmer style tool for smaller jobs knows the awkwardness of trying to figure out how to hold the tool for their application, not to mention the uncomfortable feeling of trying to compensate for the torque. Lets face it, most tool we use are made for a specific purpose and if you try to use it for a different application it is just plain uncomfortable and unnerving. Talking from experience, whenever a person runs a piece of equipment and they are uncomfortable with it, that is when accidents occur and the quality of work is not what it can be.
Dremel has been a household name for generations. Dremel has outdone themselves this time.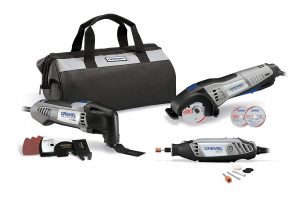 This is probably one of the most logical tools I have seen in years. The handle is adjustable from 0 to 90 degrees, so you can adjust it to your comfort level. Your imagination is probably already envisioning the possibilities. Not only that but the handle is designed so that if you want to use one hand or two, you can do so comfortably and with ease.
What are some of the other features?
Well there is the adjustable RPM dial on the handle, a non-marring base, adjustable depth, quick change bit and you can start and stop anywhere on your workpiece due to the 360 degree cutting bits. The rpm ranges from 10,000 rpm up to 20,000 rpm for more control.
The Dremel Trio Kit comes with everything you need. It even has an attachment for connecting to a vac or dust system.
So if your a contractor, hobbyists or a do it yourself-er with a honey-do list the Dremel Trio is going to be a great addition to your arsenal of tools.
Article Source: The Dremel Trio