Accessories for the Foredom and Dremel for Jewelry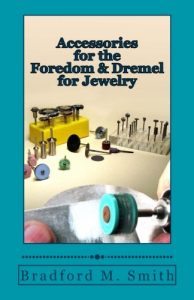 Expand Your Jewelry Skills With Brad's "How To Do It" Books
Flexible shaft and hand-held motor tools are a tremendous help to those who make jewelry, improving both the productivity and the quality of work. But with such a bewildering array of different tool bits to choose from, and new ones coming out every year, it's difficult to pick the best bits for each task. This book examines the wide range of tool bits available and discusses the merits of each. Discover the best drill bits to use, the three most useful cutting burs, six different types of sanding bits, five ways to polish your work with the Foredom® or Dremel®, and five bits that can be used to add texture to your jewelry pieces. In each category, Brad Smith shares his experience on which tool bits save the most time, tips for getting the best results, and cautions for safe use.